Last June 16th, I was able to attend the book tour of Better Than Jewels (Rica Peralejo-Bonifacio) and Found (Isa Garcia) on National Bookstore Glorietta 1. It was a wonderful event, meeting new Pinoy inspirational authors. I have been seeing their books around – social media and bookstores – lately and I'm quite intrigued of what treasures I may find between the pages.
I know Rica from her television days and now as blogger/writer, mentor, and mom. I actually have been on her blog for the past year reading some insights about her faith, singlehood, and dating. I have also checked out the blog of her husband, Joseph Bonifacio, so I had pretty much read their love story. Haha! Trivia: Rica is one of my inspirations why I came back to blogging. So when I came to the event and saw her, I had sort of little fangirl moment inside, slight kilig but mostly blessed by her life and story. Isa, on the other hand, is new to me. But thanks to the event, I came to know more about these wonderful authors.
Before introducing the authors, OMF Literature (publisher) has treated us with Words (book excerpt reading. I tell you, the chosen excerpts are so hugot!) and Music (acoustic performance of Planetshakers' Nothing is Impossible and two originals). I wasn't able to remember their names but below are the photos! (Sorry for the poor camera quality!)
Rica and Isa had a "coffee conversations" where they asked questions to each other and answer. I have recorded and transcribed some of their Q&A below. (I have left out some comments and unnecessary words.)
Isa: Some of you might not know Rica, besides being an actress, singer, and a writer, is actually a blogger. Her blog is mrsbo.ph. So Rica, how is your blog instrumental in getting your message across?
Rica: Ah! Super instrumental because I'll give you a trivia: my book was actually born out of me just wanting to – I have this desire to just make a series every month, devotional series ganyan on my blog. Sabi ko, alam mo I've been blogging since 2012 so I started thinking of this siguro mga 2015. I said why not – I've been blogging for the past how many years – maybe I can do something new. And then I realized that I like to make series or write devotionals anyway, why not put it on the blog? So some time I was able to do it and I completed one year's worth of devotional series. So ang ginagawa ko noon nag-iisip ako ng parang magazine, nag-iisip ako ng editorial calendar – iniisip ko, ano bang issue nila pag January? Ah, gusto nila new year, everything new, okay so let's find out what the Bible says about newness or goals or plans, so that's how I would craft the months. And then second was February – ah, sigurado hugot 'to. It's all about love ganyan. Let's see if the Bible has anything to say about love and it says a lot about it.
So that's how it started then when I completed like one year's worth of it, lumapit ako kay Steph. Sabi ko, Steph, I wanna make this into like a PDF form or ebook type ganyan, tapos sabi niya, o sige show me your material then when I passed it on to her, sabi ng OMF (publisher) na they wanna print it out as a book and I was thrilled! I didn't really expect that you know, I would have a book so soon. I thought that if I'd write a book baka siguro mga 80 plus na 'ko. Yung parang punong-puno ka na ng wisdom diba? Lahat na ng wisdom tooth mo nawala na, ganyan. So it was a surprise to me and I felt so honored because I really believed in OMF so much also, so that's how instrumental the blog is.
I think a blog doesn't only send your message out but also helps you to know a little bit more about yourself kasi magkakaroon ka ng feedback from your audience and you'll also learn how to interact with the online community so it teaches me a lot – that's how instrumental a blog is in my life.
R: If there is one thing from the book you would like your readers to always remember, what is it and why?
I: So the book is made up of letters – I think all of you have some point received a letter from someone whether it's a love letter, birthday letter, whatever letter, and the beauty of a letter is it's personal and I think that when I put the book together – it didn't matter whether it became a best-seller or whether a million people read it – I just wanted that whoever read it felt like, they weren't alone. That if you're heartbroken, you felt like there was somebody journey with you, or if you're sad, or if you have issues with your body, you felt and you realized that there was somebody else in the world that felt the same things like you did. So I guess the take away from my book if there's anything – if you decide to read my book – I hope what you get out of it is that you are not alone. So 'yun lang naman.
R: Very simple but very profound.
I: Thank you. So Rica my question for you is being a celebrity mom and a blogger, what is the one thing that you want your fans and your followers to learn from your life experiences?
R: That perfection is not the goal, but wholeness. Too often in life as a mom – kahit na anong label mo, kunwari as an employee, as a worker, as a writer, as a teacher – we always strive for a kind of excellence or even perfection to some degree na there's a perfect ideal state and we try to reach for that. We may get it perfectly a day, two, but you can't be even consistent about that, right? So if you strive for that consistent perfection, you'll hit a point where you'll say na, Oh my gosh, I can't do it anymore. So there's gonna be false pressure on you, whereas if you work to find that wholeness – that's achievable. Because that means I'm secure, I'm whole, I'm alright even if all else around me is chaotic, is messy, not being the way that they supposed to be, kasi you can't control a lot of things in life including yourself. I mean, you can control yourself but sometimes you get outside of that control also and you get disappointed with yourself. So if you can learn that at least from me, my life experiences, and as you've see it the way I mothered Philip, the way I'm being a wife to my husband, the way I do things in life – I'll just say that I'm trying to do my best today but if it's not perfect today, it's okay. I can try again tomorrow. This is where I found telling myself telling a lot these days. It's okay to make a mistake. What's not okay is when you give up.
I: Very profound.
R: Pag nagka-anak ka, mapo-profound ka talaga. Yun na ang sequel ng book mo: Profound letters. (Rica jokes and crowd laughs, including me. :D) Okay! Your book is written for the younger readers. How do you think is Found helpful to empowering this generation of women? I wanna hear this answer.
I: When I wrote Found…some people often think that when you write a book, you write it in a timeframe that it was published. But our books were all written years before. Well mine was written years before it got published – Rica's also, I think. It took a long while before we could put it together and publish it but when I wrote mine, I also had a blog, much like Rica and when I started writing in my blog I was 21. I'm currently 28, so it's been a long time. So a lot of things you'll read in Found were written by my younger self so now the readers who typically read my book are young 20-something women and so what I said earlier is one way it can empower these young women is to recognize that they aren't alone and feeling what the feel – which I think is important because when you're young, you have a tendency to think "I'm the only one who's going through this." And hopefully, what it point people, especially the young women, is that it is important to have community. It's important to have people who believe in you. It's important to get to know yourself. It's important that you allow yourself the grace to make mistake like what you're teaching to your son (refers to Rica). As a woman, there are all these standards that are placed upon us to look a certain way, be a certain way, and to follow a particular path but I did not do any of that and the book kind of captures that. For the women I think who have a voice that tells their story also, I think there's empowerment in that, in coming together and hearing someone speak for you. So maybe that's where we're at for now.
R: I cannot overemphasize enough the importance of the community for younger women. I think in the age of social media, we have tendency to feel like communities are just, you know, doable online. But face to face meet ups are never replaceable by messaging each other on Instagram or Facebook.
I: That's true. Okay, your turn. Which part of the book did you enjoy most writing and why?
R: If you have a copy of the book, the one that I enjoy writing the most was yung lent part. I think the title is "Jesus and.." And the reason why is there's this quote from C.S Lewis sabi niya, "I don't write to be understood, I write to understand." And I find that in writing these devotional series the biggest winner of all is me because I'm the one who learns a lot from it as I write it. Because I'm forced to look for words, look for authenticating details. When I say this, when I claim this, when I claim that – why am I able to say that? And I have to search and search and search the Bible to find why, why am I saying this? And that particular lent series was focusing on the suffering of Jesus. But it's not the suffering that what we see on the cross because the cross is like, it's so visual. I mean, we've seen it a thousand times over how He is napako sa krus, nagdudugo, nilagyan ng crown of thorns, ganyan. That's the usual suffering Jesus that we see but for the first time, I saw Him as a suffering friend because His friends left Him at the time He needed them the most. Diba I mean we're all going through a hard time. So let's say somebody accused you of something but you didn't do that thing – that's the time that you need your friends the most, right? And that's what's happening to Jesus. He was being accused of something and that was the time when all His closest friends just started flying off and Peter even denying Him three times. So it's the first time for me to see that wow, that must have hurt more than the lashes. I mean, you giving me a lash and I'm like, okay, of course you're mad at me. You're a Roman soldier. But you're a friend and you're lashing my heart – that's even deeper. So when I saw that, I had to really stop from writing and just really thank Jesus all over again for what He did and to me that's why that's my it's my most favorite part in Better than Jewels at least as far as the writing is concerned.
Which entry in the book is your favorite and why?
I: So we answered these questions last time we had our book tour but I feel that every time it might be different. If any of you creates, if you're an artist or a writer, you have different attachments to the things you create and sometimes it's hard to pick what's your favorite. So sometimes it's what's your favorite depending on what you're going through in this moment. So if I had to pick a favorite, my favorite from my book would be…okay there's this one entry, I don't know what it's called. The original title was "The 13th Floor of Everything Left Unsaid" and it's about how it's so important for us to say the things that we want to say but we have the tendency to repress, to shelf our emotions but sometimes you know, for us to have authentic relationships with each other, we have to be willing to be vulnerable and we have to be willing to be honest. So, I don't know. I was thinking about that. I really enjoyed writing it so when I think about it, Hmm baka yun yung favorite ko. My answer last time was different.
*I have not included their entire Q&A. But I will be featuring one question each (that is not found here) when I post my review of their books. So stay tuned for that. 🙂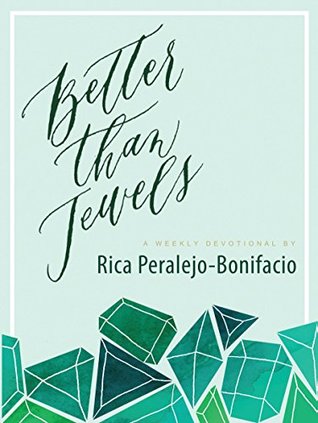 About the Books:
Better Than Jewels: A Weekly Devotional by Rica Peralejo-Bonifacio
Published December 14th 2016 by OMF Literature Inc.
Available now on Amazon, National Bookstore, and OMF Lit stores!
Synopsis:
Join Rica Peralejo-Bonifacio every week of the year in Better than Jewels.
In this weekly devotional she shares her reflections on the joys and trials of motherhood, generosity and gratitude, love and sacrifice, and hard lessons from her past.
Each weekly entry comes with a page for journaling. You are encouraged to write down your own reflections and applications after every devotional entry.
As you read this devotional, may you discover that the wisdom found in God's Word is far better than all the jewels in the world.
About the Author
Rica Peralejo-Bonifacio, is a wife, mom, writer, mentor, and daughter of God. After more than two decades of professional work in the local entertainment industry, she founded the Olivia Women Movement, a collective effort to usher women to a life of confidence and calling.
Next to Jesus, she cannot live without her husband, her son, and good coffee. She absolutely loves caramel apples and hates small talk. She blogs about faith, marriage, motherhood, and about other things in life on http://www.mrsbo.ph.
Found: Letters on Love, Life, and God by Isa Garcia
Published November 2016 by OMF Literature
Available now on National Bookstore, and OMF Lit stores!
Synopsis:
Isa Garcia believes that everybody deserves love letters. She wrote these letters in Found for you: the girl who has been feeling a bit lost; the girl who likes to run from pain; the girl who is ready to go; the girl who is a lot of things at one time or another. Isa knows that there are days when you would need to be reminded that you matter, you are not alone, and the world is a far better place with you in it.
In this book, may you find a friend who takes you as you are, a safe space for your secret hopes and fears, and the assurance that no matter where you are in your life right now, you will always be found.
SPECIAL FEATURES: Illustrated, full-colored, pull-out postcards of quotes from the book
About the Author
Isa Garcia is a teacher, social advocate, and optimist. She has loved writing her whole life and feels that his book is the fulfillment of her eleven-year-old self's greatest dream. She is grateful.
During their "coffee conversations" I have seen the funny and witty side of Rica, while I learned that Isa is an English, literature, and creative writing teacher but is not good at writing fiction. She's committed to mentorship and women empowerment, one is through a mentoring program for women she co-founded, The Better Story Project, and the latest was probably her book. Before the program started I scanned both of their books and Found is what I would say something I would write. It's like I found something that describes me,  that someone somehow got my inner diary again and wrote it in a book. I am sure that when I have the time to finally read it, I will devour each letter. Just holding the book excites me!
After their conversation, it's time to meet and greet. My books are also signed!
It's fun and amazing to meet these wonderful people and hear them talk about their passions. It inspires me even more to keep on what I have started or trying to start. I was just busy reading other books and doing other things but I am extremely excited to finally read their books. (I'm already reading Better Than Jewels but it's not the kind of book you have to read in a flash. I'm reading each entry at a time and absorb and wanted to keep the pace that way. Rica says so in the book!) And of course, I'm gonna share my thoughts about them soon here on the blog.
And lastly, allow me to just give an appreciation portion to OMF Literature for inviting us bloggers in this event and for the sweetest treats! Thank you so much!!! Much love.
How about you – what are your new reads or when and where was your latest bookish event? Have you seen and/or read Better Than Jewels and Found? Tell me what you think about them! 🙂
Yours,
Black Butterfly